At the center of our attention today – the kitchen island. Do you like it? We hope so because we dedicate an entire book of ideas with kitchens with this central detail.
When there is space for this, it is always an option that is considered when choosing the kitchen. The kitchen islands appeal to the circulation, as well as the communication of its inhabitants. In this sense, they allow you to offer more inviting spaces, since you do not turn your back and we can be several around it, without disturbing you. Apart from that, kitchen islands offer extra storage solutions, as well as a more ergonomic workspace. In other words, they make life easier for users.
If you are interested in a kitchen with an island, in order to combine functionality with aesthetics, take a look at these 7 images.
1. Fruity aroma
A kitchen island that radiates light, thanks to the several windows that open in the space. This central island is the combination of colors and the rest of the elements – table, chairs, vases, lamp. Only a countertop of an opposite color stands out, further highlighting this central element.
This island consists of a stove top and work surface, where a beautiful fruit bowl with limes and lemons has been arranged. We believe these citruses were not for nothing, they bring the fresh and colorful side.
Special note for the small wooden board, raised on the kitchen island. A detail that makes a difference, for serving dishes or for an espresso.
2. A happy color combination
In this kitchen they bet on different shades – white, brown, gray and black. Despite this diversity of colors, they combine perfectly, where each element and each color brings its special touch. But in the center of attention is this wonderful kitchen island, in black lacquered color. In this they chose to create a table with three seats. It's super practical for faster meals. This island also has a sink.
As you can see islands can have several functions, it is something that you need to determine when choosing it.
3. White, white and rose gold
A fresh and bright space, which gives us a good breath of fresh air. From the white color throughout the kitchen, to the natural light coming from the ceiling, to the rose gold lamps or even the fresh flowers arranged in various places.
This central island is perfect for attracting attention, it has space for company and even cooking. The hob right next to it is also practical to put everything right in the pan. It is like this, everything at hand to sow or better to say, to cook!
4. Illuminated
Undoubtedly, the highlight of this kitchen is this huge window, which brings direct contact with the outside. But the kitchen island is not far behind, it is a central landmark, which has a privileged position. Its entire covering is light brown in a lacquered and shiny paint, as opposed to white and brown wood kitchen furniture.
5. With some rusticity
It is not just modern kitchens, which have a kitchen island. See this example, from Canexel, a kitchen with rustic lines, which has an island.
This furniture is all white, except the top which is dark brown wood, which curiously meets the tone of the wooden floor. This island has the advantage of being large, perfect for large families. It has several storages, a sink, a work plan and space for a table, since there are those two tallest benches at the front.
6. For inspiring moments
The Perfect Stays sharing with us this home in Wadebridge and we want to serve as an inspiration to design your kitchen island.
There was no room for doubts here – a sink and a stove top occupy the space on this island, not to mention the various arrangements or even that rounded corner, which serves as a meal table. It is a case to say – we have a complete island!
7. Island paradise?
The name – kitchen island – comes from the fact that it is alone in the middle of a room, has space around it and is the center of the kitchen. Just like an island, which is filled with water all around.
The truth is that the kitchen islands become small havens. They allow residents to feel happier and in touch with their world, better managing a thousand tasks that are done in that space.
Westwing Guide to Planned Kitchens
The kitchen in many houses is still the meeting place for all day-to-day events. People meet to cook, eat, chat and spend a good time together. The planned kitchens are practical and come equipped with everything needed to achieve comfort and practicality, in addition to beauty and organization.
Who has never been wondering and planning how their ideal kitchen could be? Where to put the spices, bottles, and jars? Or what is the best type of cuisine that fits your lifestyle best? The planned kitchens can be tailor-made according to your space and preferences. Check out Westwing's tips and get inspired!
Planned Kitchens: Benefits
Planned kitchens are a trend that is here to stay. They perfectly combine functionality and design so that no one can resist their advantages. Who doesn't like having a well-organized kitchen? Regardless of the style, the creation of a unique and cozy environment makes everything stored in a practical and charming way.
Rustic style kitchens, for example, combine wooden furniture and windows with pastel colors – spices and herbs well distributed as decorative accessories, iron ornaments on the doors, copper pots and chinaware create a perfect rustic environment .
This perfect combination reflected in the planned kitchens can also be made with beautiful and shiny kitchen accessories. Wood is mainly used for cabinets, granite for countertops, and ornaments with flowers or fruits complement the ornamentation of the environment.
Planned Kitchens: Contrasts
In the development of this style, the modern rustic style represents an incongruity between the environments inside and outside the house – a contrast between the city / urbanization and the countryside / rural. However, it is possible to find bright colors, lots of wood and natural materials in kitchens designed to convey country simplicity.
In modern planned kitchens, it is very common to find several state-of-the-art household items. The design is generally minimalist , with straight and simple shapes, providing a spacious and functional environment that, at the same time, gives off a pleasant feeling of cleanliness and organization.
Design for Planned Kitchens
After choosing the kitchen design, the design of the planned kitchens begins. Where to put everything? Are the electrical outlets suitable and are they located in strategic places? In addition to many other questions that will arise as we progress in the project, it is recommended to seek the help of professionals, to facilitate the process.
The distribution of the different modules is one of the most important and most difficult things to achieve in the planned kitchens: where to place the drawers. stove and refrigerator, for example, can make all the difference in daily use.
Lighting and Furniture Layout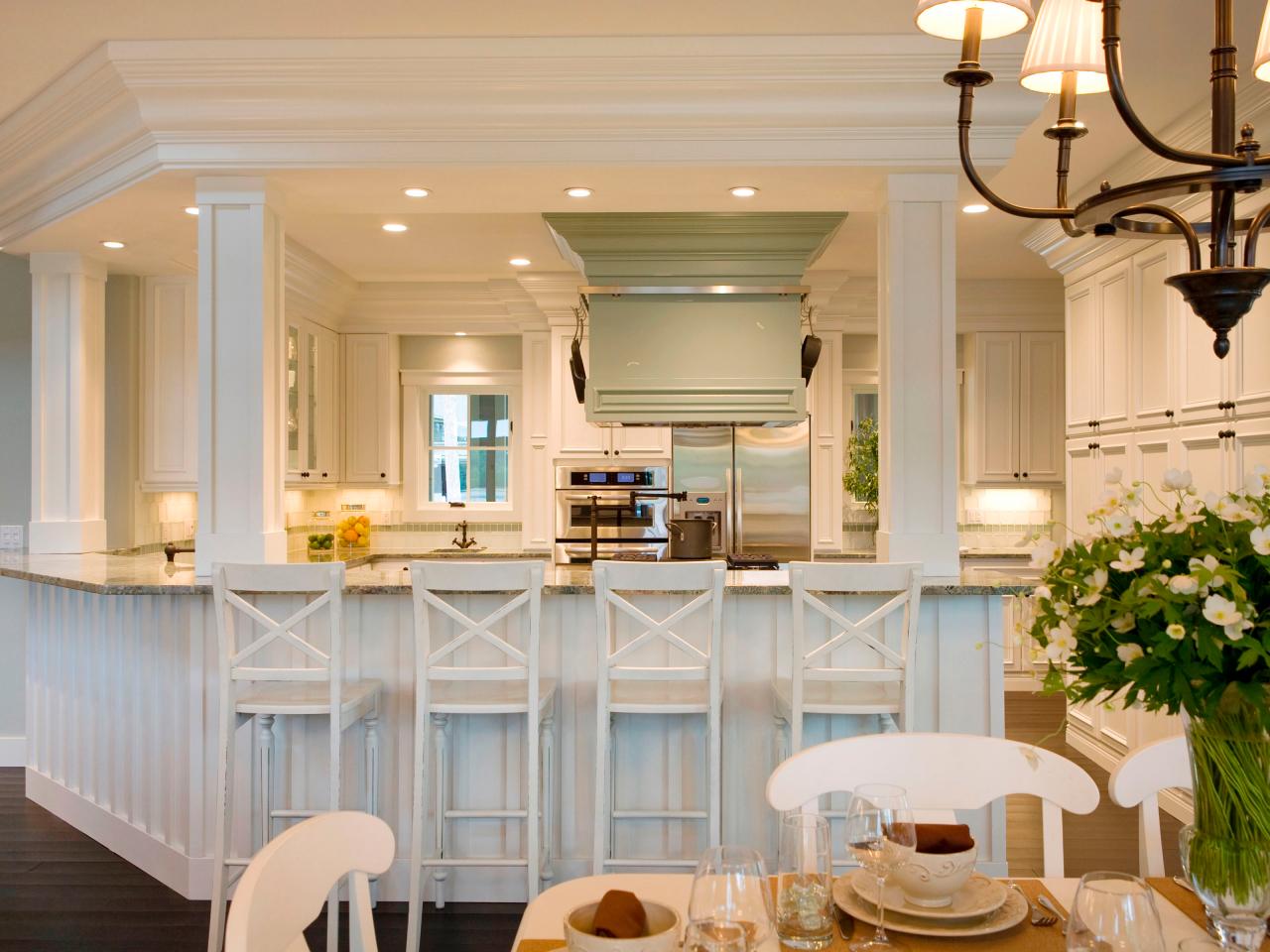 Points of light or LED lights can illuminate the kitchen more efficiently. These lights can even be embedded in the cabinets of the planned areas.
It is also important to think about the size of the furniture, because if you like specific furniture and it does not adapt to the dimensions of the kitchen, you must either make changes in the design of the planned kitchens or choose different furniture.
This type of cuisine offers solutions and practicality , which are adapted to personal tastes and preferences, since you can choose everything in the smallest details.
With the planned kitchens you can find endless ideas. If the space is not enough to meet all your criteria, prioritize according to your needs. Planned kitchens should make our lives easier, and of course, more beautiful!
Basic Tips for Setting Up Planned Kitchens
We have prepared a list of basic tips for you to assemble your planned kitchen project with practicality and conquering an elegant, functional and original environment, check out:
Paint your kitchen with a light color to give the impression that the space is bigger and more cheerful. Colors such as white, sand, cream, yellow and light green are examples that can be harmonized with several different styles in the decoration of planned kitchens, both in the use of elegant old appliances and modern ones. When painting planned kitchens, always remember to use semi-glossy or very glossy paint, so you can easily clean with soap and water, making your cleaning routine easier.
Consider installing inserts and reflective devices, such as stainless steel refrigerators for example. Low-reflection surfaces work the same way if mirrors are installed, which make small, planned kitchens look bigger.
Lighting is also very important in planned kitchens. Even if you have good lighting, add extra lighting, such as small lamps or spots on surfaces.
Use frosted or clear glass doors instead of solid doors in planned kitchens. The use of clear glass provides more natural light than frosted glass. However, frosted glass allows for more privacy than clear glass. Frosted glass is suggested for planned kitchens that already have a lot of lighting from other windows.
Avoid dark, dense windows in planned kitchens, as they feel less spacious. If you want privacy, consider using vertical blinds or blinds, which are easy to clean and can be moved sideways or upwards, while also optimizing the space in your planned kitchens.
With Westwing's tips, it's even easier to create custom kitchens. Invest in a beautiful project and add comfort, practicality, and functionality to all environments of your home!